'DOES IT MATTER IN THE DARK?' – in conversation with Alice Robinson
When Alice created the show 'Does It Matter In The Dark' she could not know how relevant her show would be to the world a couple of months later.
'People are way more capable of new challenges and life than what they think they are.'
With her work, she explores what holds purpose in darkness, and what does not. What happens when our sense of purpose slips away into the abyss? What comes to life in the darkness? Are our senses heightened? What psychological factors come into play? What is left? What is now important? These are the very questions that many dancers have been asking themselves for days.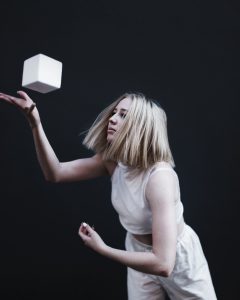 Alice is an eclectic creator, fusing her background in contemporary dance with an innovative eye for choreography and movement direction. She draws her inspiration from soundscapes, human psychology, current world issues, art and fashion. 'Does It Matter In The Dark' allows audience members to wander freely through eight different spaces of the performance venue, whilst being stimulated by the dancers, and audio and visual cues. In her experience, the importance of the present is too often underrated and not appreciated enough. With her work in London, she wanted to encourage her audience to shake the way life is explored, as that's not done enough. 
But on top of that, for her, the creation of 'Does It Matter In The Dark' has been a huge learning experience in how valuable it is to really communicate within the team, to appreciate the awareness and understanding of a creation with artists of backgrounds other than dance in order to make it the best possible stimulating experience for the audience. As opposed to most other shows, her audience could choose what they wanted to pay attention to, they could choose what mattered to them most. A type of freedom not many shows can offer. And she didn't stop here; the audience would not be offered an introduction, but would discuss their impressions and emotions after the show, a rare form of direct feedback for the choreographer. 
Her show sold out and she was able to offer a second date for another run, and the reviews have been excellent! We really wish everyone could experience her creation during the current crisis. In saying this, it is far from just a viewing- it is a whole-body-whole-mind experience.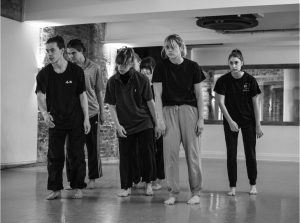 We discussed with Alice why she chose to pursue a career in choreography, why she left Australia for Europe, creating her first show overseas that immediately sold out.
Q: How come you decided to move overseas AND pursue a career in choreography? That's probably one of the hardest challenges in the dance world?
A: Moving to London in 2018 felt like the natural next move in my life. I had travelled the UK & Europe throughout 2016 & 2017 and felt the intense pull to continue my career in London. To have a new environment to draw inspiration from, create work and therefore share within the new community was something I was incredibly excited for. After creating my show recently, it was amazing to be at the stage of employing dancers and collaborating with other art forms like sound engineers, film makers, venues and photographers.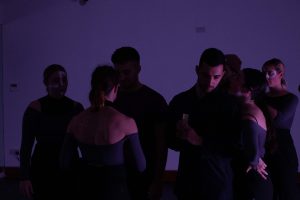 Q: After your experience with 'Does It Matter In The Dark?', how would you advise aspirating choreographers to begin either choreographing or – if they have some experience already – how to approach the creation of a new piece?
A: Creating is something we should all try to embed in to our routine lives. The only difference between this work and work that makes its way to being seen is for it to be validated by ones self as having a "spark" in it. To be honest, it's an act of bravery and something that we all have the authority to do. For me, in particular I need to be obsessed with an idea. If I'm researching it, discussing it with friends and can't get it out of my head, I know it's something I must create & share. We are the channel the idea moves through in creation, and we hold that role whether it's executed in dance, writing, visual art or other modalities. Ideas deserve the right to be seen and digested and if you are lucky enough to be the channel you must give it your best shot. 
Whilst speaking about the different modalities an idea can be delivered through, I am a huge fan of discussion and collaboration as each person naturally has a different perspective on a concept. This collaboration accesses a larger pool of ways in and around a topic and an exit point of creation within that. For "Does it Matter In The Dark?" I was fortunate to collaborate with a sound engineer as we carefully created 8 rooms worth of sound for the show. We were able to layer the music to add tension, and triggers through sound as well as logically cueing the dancers. Collaboration adds different perspectives and enhances the overall product as the bank of knowledge in different forms is unique. 
Q: Your thoughts on contemporary dance having been a 2nd tier career in Australia for long? Do you have different impressions of the contemporary dance scene in Europe, or have you experienced a different acceptance through audiences? 
A: I believe the arts is a huge part of the general culture in the UK & Europe, more so than in Australia. In saying that, it is still a challenge to create within the dance and art community within society, however creating work on this side of the world, at this time, is something I am incredibly lucky enough to do. Making an impact through more outlets with the tool of collaboration is a key way to employ more artists and reach the dance community and general public through wider audiences.
Short Biography
After moving from Sydney to London in 2018 Alice has cemented herself as a stand-out contemporary creative after debuting her immersive production "Does It Matter In the Dark?" to sold out (!) London audiences in November 2019.
During her career Alice has worked with the likes of Benoit Swanpouffer, Emma Portner, Belen Leroux, Larissa McGowan, Sarah Boulter, Patric Kuo, Stephen Tannos, Lukas McFarlane, and Ricky Jinks.
Some of her recent credits include: Opera Australia (Dance Captain), BBC One's – The Greatest Dancer, Londoner Macao Campaign (LDN), Company Jinks (LDN), The Dream Dance Company (AUS) ,HSBC (HK), So You Think You Can Dance (AUS), Untitled Dance Company ( LDN),  Elk Roads' 'Hanging by a Thread' (AUS), Lucy Doherty's 'ONE' (AUS), and various other performances across the world.
We hope this conversation inspired you to explore your feelings and emotions in these difficult times! While you may be in self-quarantine or bound to your house/flat by closures of schools and companies, or even be affected by curfews, immerse yourself into the idea of finding out what matters in the dark:
Trailer: https://www.youtube.com/watch?v=E3FjFKn4rio
Insight into the working process: https://www.youtube.com/watch?v=XQx6JI3riSw
Early stages of the project: https://www.youtube.com/watch?v=3NyqcLM5e3A
Alice in conversation with Savannah Saunders on her podcast 'The wonderful World of Dance' – we do recommend this podcast as you will get to know many aspects of Alice as a person there!
If this conversation has inspired you to get creative and use this unexpected time off to create your own piece, please tag us (@ausdancersoverseas) and Alice (@alicerobinson), and use the hashtag #doesitmatterinthedarkchallenge on social media! Thank you!