Please note: This article was first published in 'AusDancersOverseas – The Magazine 1/2019'. Amelia has moved on in the meantime, left her position with Karlsruhe Ballet in Germany, won the Emerging Female Classical Choreographer Initiative and premiered her new piece with The Australian Ballet in their Bodytorque season 2019. She now works for the Australian Ballet as Artistic Coordinator and is a regular writer and columnist for the Australian magazine Dancetrain. Her work has also appeared in Dance Australia Magazine.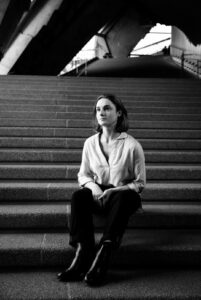 I like to think of an audition as just another opinion. There are so many factors that weigh into getting a contract, and many that we won't exactly know before we attend an audition, and many we probably don't want to know. In some ways it's not helpful to know everything, because if you try to change yourself too much for one audition or director, you stop dancing like yourself, and that's when doubts can creep in. I like to look at it from the perspective that by being yourself, you will get chosen for the right company at the right time. That doesn't necessarily mean waiting, but it does mean being brave and putting yourself into different situations, and gaining the experience you need to get that contract. Even with the mistakes you make and the things you feel you don't know now…just be patient and you will learn everything you need to along the way. 
The aspects we can control about an audition are things like, our confidence, our preparation, research into that company, and how we present ourselves on the day. We should focus on these aspects. Unfortunately there are some concerning things that can arise in an audition situation. For example, you might travel for hours and spend a lot of money, and the director doesn't show up. This happened to a friend of mine where they videoed the class and said that the director would watch the video later and make a decision. This is just one very plain example.
When I went on my first audition tour in Europe I was 16, and I discovered that everyone approaches and copes with the audition process differently. Just because one dancer you met said something horrible about a director or an audition, it doesn't necessarily mean you'll have the same experience. If you're interested in that company, it's always worth a try. It's a lot about adapting and evolving and being able to focus on what you're about to do, regardless of what is happening around you. With that being said, if you feel that the audition is out of control or unhealthy for you in some way, however frustrating it is, it may just be better to leave. 
A lot of the time when you are invited to a private audition it means that you will be taking company class. This is a great way to audition and I highly recommend it over an open audition which could have upwards of 200 dancers. You will be seen individually and within the company setting. I struggled at the beginning of the season to feel like the class was showing the directors what I needed to show to to get a job. But the directors expect to see you like you would be on stage. I got a great piece of advice from an ex-dancer friend who had done his fair share of auditions. I told him that I didn't feel confident in class and was feeling so exposed, and he told me to bring out the actress inside of me, and imagine I've got the confidence of my favourite dancer. So whatever level your confidence is at now, you can do some acting on top of that and eventually it will come. Also, don't feel pressured to be more than you are at the moment of your audition (apart from acting confident). As soon as you start to doubt your ability, I believe body language is very telling, and directors sense that. 
As many auditions as I've been to, the people that stand out to me always have a certain elegance about them. They don't wear fancy or over the top leotards, or elaborate hair. They dress cleanly and simply, and you can see their confidence radiating out of them, but not in an over the top way of pushing people and standing centre front. They have a confidence, security and aura that makes you want to watch them wherever they stand. But in an open audition with hundreds of dancers, I wouldn't recommend standing up the back! 
In one open audition I attended I was wearing shorts, as well as many other people, and we were told to take them off because it seemed like we were hiding something. Sometimes they say in the audition notice what type of attire is required, and unfortunately it is stricter for women. You may not have a problem, but just be prepared that you might be asked to take off your skirt or shorts. I personally like to have bare legs because it shows muscle definition, but for a very classical company this may not be appropriate. Have a look on Instagram or Facebook and do your research into the company to see what style will be best if you will be taking a private class. In the beginning, I would take many changes of leotards, tights, pants, shoes and shorts so I would feel comfortably dressed and I could change if I needed to. In the end I learnt pretty quickly what I felt comfortable in, and what was appropriate to wear. 
Also, with what to expect if you're doing a classical company audition- always assume that class will be en pointe, so you can go in with the right mindset and can prepare yourself. You could even send an email to ask before you arrive if you're not sure, because there is nothing worse than having to put pointe shoes on unprepared!! There's a good saying that is 'expect the best and prepare for the worst!'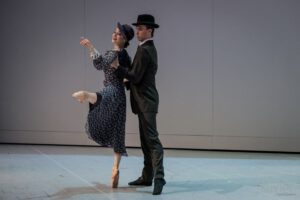 In terms of learning choreography fast, this was one of my biggest difficulties in the beginning. I was super tired around February and March which was when the bulk of auditions were taking place. I was travelling during the night and arriving in the morning to take an audition class that same morning. I would say make sure you're taking care of yourself to the maximum around this time, especially with sleep because you need to be able to focus and pick up the exercises and choreography. On days that I was really struggling, I would take it one exercise at a time and practice my breathing techniques before so I wouldn't get so nervous and forget what I was doing. Other ways to remember difficult combinations and choreography is very individual, and you have to practice in everyday classes and rehearsals. Also, during the audition if you don't understand something, ask questions…however intimidating it may be. For me, I know I'm not the quickest to pick up choreography, but I know I just need time and patience and to go over it many times to put it in my body. The trick is to not get frustrated in the beginning if you're slow to pick it up. Just the the thought that you will eventually get it, will calm your mind and allow you to focus on putting the steps into your body. 
A valuable lesson I learnt during this process was the type of company I would like to go to. It took some experimentation and I tried a lot of different places (14!). I have been in my current company in Germany for 5 years, and if I could go back and tell my younger self something, I would say go and visit more companies and introduce yourself, get a feel of where you want to go, what your style is, and what your next step could be. Also, don't feel comfortable or complacent! 
It's true, there are so many dancers going to auditions in Europe, and if you go for one season of auditions, you will be shocked at the volume of dancers wanting a job. You may find there is no time to visit all the European companies you want to because Europe is massive. I would have liked to have been able to pinpoint exactly which companies I should've spent my time and money on. A lot of the time you need more than one season to find your first job especially. I am very inspired by one of my friends who landed her dream job in her dream company after going and visiting the company for 3 years in a row. She even said she would have kept trying for 5 years! It's all about persistence and determination, and a bit of luck to be in the right place at the right time. It's also great if you have friends or someone you know in a particular company you're interested in, use them! 
I wish you all the best for your next audition season!